Built around our carrier grade SIP technology, the Shout Call Recording platform offers a high reliability, cost effective solution for network operators and enterprise customers.
Shout have been developing and delivering call recording solutions for over 15 years. Our platforms can be found in some of the largest network carriers in Europe and are built to resiliently handle complex requirements in a variety of deployments.
Using our experience and the flexibility of our technology, we are able to offer a solution to suit every organisation regardless of size, network complexity or budget.
Deployment Diagrams
Below you can find some sample deployment diagrams:
Why do so many businesses record calls?
Typically, businesses record calls for either the commercial benefit or because it is a legal and regulatory requirement. The following is a list of the key areas that are improved through the monitoring and evaluation of recorded voice communications:
Quality Assurance
Dispute Resolution and Mitigating Risk
Training and Development
Regulatory and process Compliance
Order Verification
Sales and Agent Optimisation
Legal Record Keeping
How can we help you record calls for your business or for your network clients?
We have a solution for every requirement, from a single small business on-premises solution up to bespoke high volume installations for Mobile & Fixed Network Operators. We can provide voice recorders on their own, or we can provide a turnkey solution complete with integrated web portals and multiple storage options.
Small Business SIP Recorder
For small installations we have our SIP Recorder. This is a hardware unit that is quick and easy to install, highly resilient and requires very little technical know-how. Once an order is received, we configure the unit and despatch it to the customer with simple set up instructions.
An online account is created where customers can manage their recordings via our fully featured web portal (for more information and to book a demo contact us today)
How it works:
We configure the SIP Recorder and despatch it to the customer with a simple set up guide instructions
Calls are recorded on premise from the voice traffic captured via the network router (don't worry this is very straightforward)
Recordings are sent to our PCI Compliant Cloud Storage
An online account is created where customers can manage their recordings via our fully featured web portal
Multiple locations can have recordings stored and available through a single web interface with user login permissions controlling who can review, configure and manage recordings for each location.
We provide 24/7 support for the life of the service
For the more technically minded, here is what it looks like: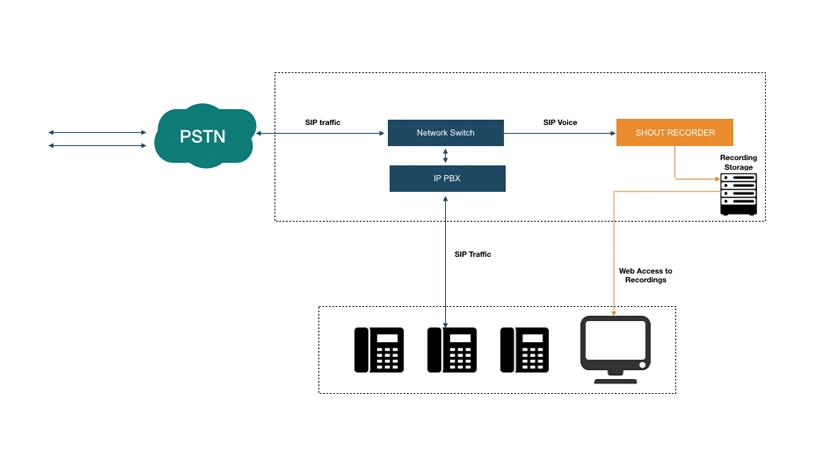 Suitable for:
Businesses with a single location
Businesses with multiple locations but no centralised IP PBX solution
Distributors looking to offer their SME customers a simple call recording solution
Networks looking to offer their B2B customers an on-premises call recording solution
Network SIP Recorder
For higher volume requirements we can install a dual redundant, resilient recording platform into any voice network. This type of installation has multiple recording options including:
In-Line
Put simply, any calls that require recording can be tromboned through our platform and recorded on the way through. This is a traditional solution and a legacy of TDM networks but an extremely reliable way of capturing recordings.
Network Tap
In this deployment we install a network tap between the Session Border Controller (SBC) and the SIP Switches in the network. The tap captures all network traffic and sends it to our recorder where the voice calls are captured and recorded. This can be deployed in communication/Service Provider networks as well as in smaller installations with IP PBX systems.
Forked Media
Forking in the scenario describes the act of sending two stream of SIP calls out at the same time with one of the streams sent to our recorder while the other stream is routed to its destination as a normal voice call. For example, a network may agree to record calls for one of its B2B clients, so it configures its network platform so that when their customer makes or receives a call, a copy of that call is forked out simultaneously (from its network router or SBC) to our SIP Recorder.
Forking is also used within SIP handsets that can often be configured to send a copy of every call the handset makes to a recording server, with many handsets allowing the user to switch forking on and off.
How it works:
We engage with the network and review the best option(s) for recording the voice traffic. Often this is dependent upon the network infrastructure and the type of recorder required. We are perfectly happy installing multiple recording solutions. For example many networks resell IP PBX solutions from different vendors (like Cisco CUCM) and these may require a separate installation of our recorder.
Once the recording solution is agreed, we establish the storage requirements. We can offer the following:

Recordings stored on the communications networks storage servers
Recordings stored on third party cloud servers controlled by the network
Recordings stored on third party cloud servers controlled by the end customer
Recordings stored on AWS cloud servers controlled by Shout

Then we agree the service provisioning processes. We offer the following:

Manual provisioning via web interface
Automatic provisioning via API
We can also build a bespoke interface if required

We then brand our call recording management portal so your user experience from purchase to service delivery is seamless.
Commercials
We can offer the following purchasing options:
Annual Licence fee
You can licence our platform for an annual charge. The amount will be subject to a capacity limit in terms of concurrently recorded calls. So it will be made up of a platform licence and a concurrent channel licence. This comes with the following:
No monthly per user fees
24/7 Global Technical Support
Software updates and feature upgrades
A branded version of our fully featured web portal for both Sysadmin and end users
A Variable Usage Licence
In this instance we install our platform(s) in your network and then you pay for the usage of our platform. At the start of each month we will invoice for the usage dependent upon the metrics we agree. This comes with the following:
Only pay for your actual usage (monthly minimum usage will apply)

Active users
Concurrent Channels
Storage (if using Shout Cloud storage)

24/7 Global Technical Support
Software updates and feature upgrades
A branded version of our fully featured web portal for both Sysadmin and end users